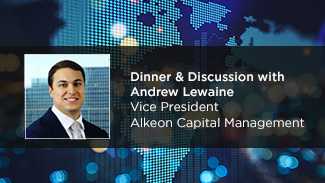 Alkeon Capital Management Dinner & Discussion
Date: Wednesday, September 25, 2019
Time: 5:30 PM – 8:30 PM
Location: Opal Wealth Advisors, 2 Jericho Plaza, Suite 208, Jericho, NY 11753 (Map)
Tickets: Free for Opal clients who are accredited investors*
Dinner and cocktails will be served.
Opal Wealth Advisors is thrilled to invite you to an elegant evening of cocktails, cuisine, and conversation where we will be welcoming Andrew Lewaine, Vice President of Alkeon Capital Management, as our honored speaker.
With an impressive 21-year track record, Alkeon Capital is a leading hedge fund that manages $7 billion in assets. Their research-intensive investment approach allowed them to recover from the 2008 market crash in a mere 9 months.
Andrew joined the Alkeon team in May of last year, after a successful stint at MainStay Investments, where he aided financial advisors in consulting clients across the country. Prior to Mainstay, Andrew worked at Fidelity Investments within their Wealth Management division advising clients. He received a Bachelor of Science from Rutgers Business School in 2015 graduating Magna Cum Laude.
We are honored to host Andrew and glean key insights to his investment expertise at one of the most well-respected hedge funds in the country.
The presentation will cover:
Alkeon Capital's Long/Short Equity Strategy, which features:

100% bottom-up, fundamental, global growth equity long/short with a net long bias
9% CAGR since January of 1998
In Alkeon's opinion, a substitute for long only global equity
Asymmetric up/down capture vs. MSCI World
Upside 141% / Downside 21%

New Wave of Technological Innovation Opportunities, including:

5G and the Internet of Things
Advances in display technologies (high-def CMOS sensors, OLED, 3D sensing and VR/AR)
Artificial Intelligence
Autonomous Driving
Machine Learning
Winning and Losing Technologies/Companies
This is an exclusive event available only to Opal clients who are accredited investors.* Do not miss this rare opportunity to gain invaluable insights from an industry-leader.
5:30 PM – Registration and cocktails
6:00 PM – Dinner and presentation
8:30 PM – Wrap up
Space is limited! Please RSVP by September 23 to reserve your seat.
*Accredited Investors must have a net worth of $1 million or more (excluding primary residence), or must have an annual income of $200,000 or greater ($300,000 combined with a spouse) for at least three years.
Register