Banking Smarter: Using Cash Flow to Build Wealth
By Jesse Giordano, CFP® | November 14, 2019
Building a solid financial foundation requires more than simply having money. Any experienced financial advisor will tell you that how you manage your money has a far greater impact on whether or not you thrive financially. As counterintuitive as it sounds, hoarding loads of cash isn't actually the best way to grow your wealth over the long haul.
Instead, it's about using our cash flow in a way that sets the stage for financial stability in the long term and beyond. It sounds simple because, well, it is—but it's also a financial priority that's easy to overlook. Banking wisely can shore up your finances and lay the groundwork for lasting wealth.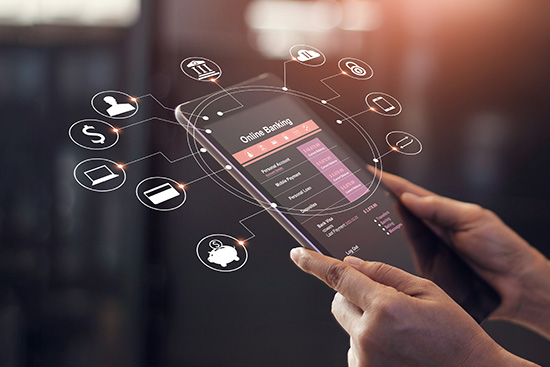 Making the Most of Modern Checking Accounts
Let's begin with the bank account you probably use the most: your checking account. Like everything else, personal banking has evolved in recent years. Many brick-and-mortar banks have kept up with the times and have now woven mobile apps into the customer experience, and it certainly makes things easier. Seventy-six percent of Americans say they wouldn't open an account with a bank that doesn't have a mobile app, according to a recent GOBankingRates survey.
Minimizing account fees—or, better yet, eliminating them altogether—is an easy way to make your money work a little harder for you. Schwab's high-yield checking account is a great example. With no monthly fees or account minimums, you'll have unlimited ATM fee rebates on top of a 0.15 percent APY on your balance. It also links directly to a Schwab brokerage account. That's pretty competitive when compared to what other big banks have to offer.
Still, more and more consumers prefer online banking over brick-and-mortars. There are plenty of smart options here, as well. Take Discover's Cashback Debit account. This free checking account lets you earn 1 percent cash back every time you swipe your debit card (up to $3,000 per month). That works out to $360 in annual rewards, just for using your checking account as you normally would.
Tackling Your Savings Goals
If checking accounts are one side of the coin, savings accounts make up the other. When it comes to putting real muscle behind your cash, it pays (quite literally) to go with a bank that offers the best annual yield. These days, that's most likely going to be an online bank.
In fact, the average traditional bank pays just .01 percent on savings accounts. At the time of this writing, online savings accounts with Citi offer annual yields that are over 2 percent, according to Bankrate. The same goes for money market accounts with BMO Harris Bank. This is significant—if the interest you're earning is getting eaten up by the rate of inflation, your cash savings is actually costing you money.
The other thing to consider is how you're managing your actual cash reserves. As the name implies, savings accounts are for helping you make progress on your savings goals. Using different accounts for different goals can be a powerful way to visualize your financial dreams. And when our money is earmarked in this way, it makes us less likely to dip into it for other reasons. (You may think twice about pulling money from your savings when it's labeled as "Vacation Fund.") Online savings accounts from Capital One allow you to nickname your accounts to match different goals. You can then link these accounts to other banks and transfer funds when you're ready.
No matter what you're saving for, be sure to put your efforts on autopilot by setting up automatic transfers each month. We all lead busy lives—having to remember to move money on a monthly basis is a surefire way to set yourself up for failure. Avoid the need to control—automate your future. This is part of establishing good money habits and ultimately reaching your goals.
Keeping It All Together
More than a few clients have told us that the reason they stick to one bank is that they like seeing everything in one place. Our free Opal Wealth Access mobile app (download from Google Play and App Store) solves this problem by showing all your financial institutions right on your Opal dashboard. This lets you see everything and easily toggle back and forth whenever you like.
Regardless of where you keep your checking and savings accounts, think twice before jumping on promotional teaser rates or other bonuses banks use to entice people to move their accounts. Banks often downshift to a below-market rate when you're not paying attention, and you'll end up losing in the long run. Even if you stay on top of it, you'll keep moving money from one bank to another trying to catch the next best rate.
If you add up the interest you gain versus the time invested, this strategy typically isn't worth the hassle. Instead, find a good online bank or an institutional money market, then move on. Opal Wealth Advisors can help you zero in on which ones are best for you so you can start earning more on your money.
Be a Smart Investor
Stay up-to-date with industry-leading information and news delivered straight to your inbox.
Get our timely insights delivered to your inbox (Blog)
Please remember that past performance may not be indicative of future results. Different types of investments involve varying degrees of risk, and there can be no assurance that the future performance of any specific investment, investment strategy, or product (including the investments and/or investment strategies recommended or undertaken by Opal Wealth Advisors, LLC ["OWA]), or any non-investment related content, made reference to directly or indirectly in this commentary will be profitable, equal any corresponding indicated historical performance level(s), be suitable for your portfolio or individual situation, or prove successful. Due to various factors, including changing market conditions and/or applicable laws, the content may no longer be reflective of current opinions or positions. Moreover, you should not assume that any discussion or information contained in this commentary serves as the receipt of, or as a substitute for, personalized investment advice from OWA. OWA is neither a law firm, nor a certified public accounting firm, and no portion of the commentary content should be construed as legal or accounting advice. A copy of the OWA's current written disclosure Brochure discussing our advisory services and fees continues to remain available upon request or at www.opalwealthadvisors.com. Please Remember: If you are a OWA client, please contact OWA, in writing, if there are any changes in your personal/financial situation or investment objectives for the purpose of reviewing/evaluating/revising our previous recommendations and/or services, or if you would like to impose, add, or to modify any reasonable restrictions to our investment advisory services. Unless, and until, you notify us, in writing, to the contrary, we shall continue to provide services as we do currently. Please Also Remember to advise us if you have not been receiving account statements (at least quarterly) from the account custodian.