Do You Really Need a Prenup?
By Joseph N. Filosa, CFP® | June 13, 2019
Amazon mogul Jeff Bezos made more headlines this year for his divorce than for his business acumen. His ex-wife reportedly received a $150 billion divorce settlement, marking one of the world's most expensive separations to date. Needless to say, they didn't have a prenuptial agreement.
Celebrities certainly aren't in a class of their own when it comes to divorce. Everyday folks stand to lose a substantial chunk of their wealth if their marriage comes to an end. This is precisely why prenups, as they're called, are so important. As unromantic as we tend to peg them, they're far and away our best protection for safeguarding our finances.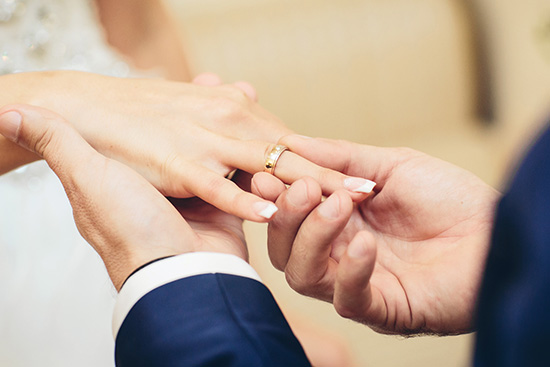 How to Respectfully Suggest a Prenup
A prenup is essentially a written agreement that spells out how all assets and debts will be dealt with in the event of divorce. It's not something many engaged couples like to think about, and we get it. Planning a wedding is an exciting time meant to bring families together and celebrate the beginning of a new life. The truth is that a prenup doesn't have to take away from this special time.
Contracts go hand in hand with wedding planning. You sign one with everyone from your DJ to your florist. A prenup can very much be just another mundane part of the event-planning process. In our experience helping many couples navigate unexpected divorces, we can say with certainty that it's by far the most important agreement you'll sign.
Still, it's often a delicate conversation topic. So how do you broach the subject with your partner? The best approach is to lead with respect, honesty and warmth. Remember: You're marrying this person because you're in love with them. Calling it quits obviously isn't something you want, but both of you will sleep better knowing that your finances are secure and protected. Frame it as one less thing to have to worry about.
The truth is that none of us knows what the future will bring. In fact, the divorce rate for people over 50 doubled between 1990 and 2009, according to the National Center for Family and Marriage Research. Talking openly and honestly to craft a prenuptial agreement together should simply be part of merging your finances as a married couple—it's not something that has to spoil your engagement or take away from the love you have for one another.
In truth, the decision to go forward with a prenup is a sign of love and respect in itself. You value your partner and don't want to ever see them in financial hardship should the unexpected happen.
Who Needs a Prenup?
We tend to think of prenups as reserved only for the super wealthy. This is a dangerous misconception. They obviously do protect high-net-worth individuals, but they're not exclusive to folks in this camp. No matter where you are on the financial spectrum, chances are you've worked hard to grow your wealth. You've likely been kicking into one or more retirement accounts over the years, building your liquid savings account and investing wisely.
If you live in one of nine community property states (listed below), you'll be required to divide all your assets and debts right down the middle should you divorce. The knife cuts both ways. Translation: You could be on the hook for half of your spouse's debts. Those who live outside of a community property state will be at the mercy of a judge, who'll determine how to divvy up all assets and debts equitably.
*Community property states: Arizona, California, Idaho, Louisiana, Nevada, New Mexico, Texas, Washington, Wisconsin.
Additional Benefits of Prenups
Again, prenups aren't sexy, but they're necessary. This is especially true of couples who are remarrying and already have children from a previous relationship. In the event of a divorce, will your spouse be entitled to assets you'd originally planned to leave your children?
It's definitely something to think about if you own your own business; with or without children. If the marriage ends up dissolving, do you want your spouse to have any legal stake in your business? The same goes for debts. When marrying someone with a heavy debt burden, a prenup can keep things separate so that you won't held responsible for any open accounts in your spouse's name.
Prenups are unique documents that are individual to each couple. In other words, there's no one-size-fits-all agreement. But what they all have in common is that they're designed to protect your financial well-being in rain or shine, no matter what the future holds. At Opal Wealth Advisors, we help individuals and couples alike manage their wealth responsibly so they can continue thriving through every stage of life—whether you're single or partnered.
Be a Smart Investor
Stay up-to-date with industry-leading information and news delivered straight to your inbox.
Get our timely insights delivered to your inbox (Blog)
Please remember that past performance may not be indicative of future results. Different types of investments involve varying degrees of risk, and there can be no assurance that the future performance of any specific investment, investment strategy, or product (including the investments and/or investment strategies recommended or undertaken by Opal Wealth Advisors, LLC ["OWA]), or any non-investment related content, made reference to directly or indirectly in this commentary will be profitable, equal any corresponding indicated historical performance level(s), be suitable for your portfolio or individual situation, or prove successful. Due to various factors, including changing market conditions and/or applicable laws, the content may no longer be reflective of current opinions or positions. Moreover, you should not assume that any discussion or information contained in this commentary serves as the receipt of, or as a substitute for, personalized investment advice from OWA. OWA is neither a law firm, nor a certified public accounting firm, and no portion of the commentary content should be construed as legal or accounting advice. A copy of the OWA's current written disclosure Brochure discussing our advisory services and fees continues to remain available upon request or at www.opalwealthadvisors.com. Please Remember: If you are a OWA client, please contact OWA, in writing, if there are any changes in your personal/financial situation or investment objectives for the purpose of reviewing/evaluating/revising our previous recommendations and/or services, or if you would like to impose, add, or to modify any reasonable restrictions to our investment advisory services. Unless, and until, you notify us, in writing, to the contrary, we shall continue to provide services as we do currently. Please Also Remember to advise us if you have not been receiving account statements (at least quarterly) from the account custodian.