What 2020 Can Teach Us About the Future
By Jesse Giordano, CFP® | January 12, 2021
2020 was a year like no other. It looks as though we're approaching the beginning of the end of this devastating global pandemic, but we're all still feeling the effects. Many Americans have either gotten sick themselves or lost loved ones this year; or both. Many others have experienced the economic impact firsthand. This is all to say that 2020 was a rough one, which is why it makes sense if you're feeling eager to leave it all behind and start fresh in 2021. While forward movement is certainly positive, there's one all-important step that precedes it—pressing pause and looking back to reflect on the year.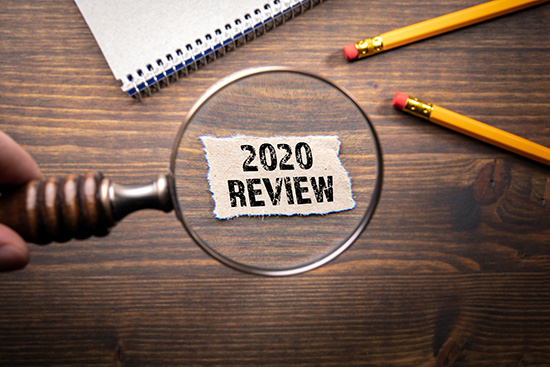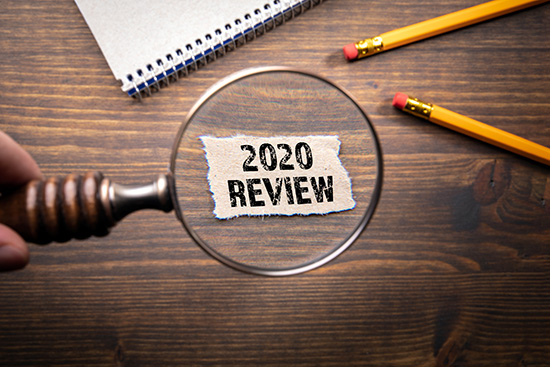 The past can be a powerful teacher, no matter what the future has in store. Whether we're reflecting on the high points of 2020 or the moments that tested our strength, chances are there are hidden gems of wisdom that we can take with us into the new year. What's more, these lessons can provide valuable insights for our financial health.
At Opal Wealth Advisors, we're encouraging our team and our clients to conduct a simple past-year review to discover what we've learned from 2020. Here are some key points to help you make the most of your experiences so you can move forward with wisdom and clarity.
Bring Your Attention to What Went Right
Now is the time to focus on the things that went right in 2020—the moments or outcomes that made you feel good. This can include any strategies you used that led to a positive result. Maybe you were surprisingly adaptable while transitioning to working from home. Others may look back on last year and feel grateful to have had an emergency fund to draw on when they needed it most. Folks who weathered a Covid-19 diagnosis or were able to steer their business through the pandemic have undoubtedly gained a new perspective. These are examples that reinforce positive mindsets to carry into 2021.
Clear away a few minutes and spend some time mulling over the following questions. They're designed to help you pinpoint the things that went right last year.
What are 10 of the greatest outcomes you experienced in 2020?
What are your proudest accomplishments?
What are the biggest improvements you've made?
What is the most important new relationship you've made?
What's the most generous thing you did in 2020?
What Can You Learn from the Challenges of 2020?
While we can certainly learn from the things that went right last year, our mishaps may be even greater teachers—and we all know that 2020 brought plenty of obstacles. Pinpointing the factors that led to less-than-ideal outcomes can be illuminating. When looking at seemingly unrelated circumstances that "went wrong," you may find a common thread that ran through them all—your emotional response. We cannot control everything that happens to us, but we are in control of how we react. Think back to times during last year when you felt particularly let down or disappointed. In addition to examining the cause, we encourage you to also look at the other side of the coin, which is the way you responded. Can hindsight provide any teachable moments?
It's something to think about when we inevitably encounter challenging times in 2021, especially since we aren't out of the woods quite yet. Instead of responding with a knee-jerk reaction, the idea is to step out of autopilot and react consciously and with intention so as not to repeat the past. The following questions can help identify negative reaction patterns:
What goals didn't you hit last year? What was missing from your actions that you could do differently next time?
What would you do differently last year if you could travel back in time?
What do you need to do less of in 2021?
Can you think of a time when you wish you would have asked for help or guidance?
Integrating These Insights Into Your Future
If there's one thing we know for sure, it's that a new year always brings its own set of challenges and opportunities. The best time to plan is when you're feeling stable—not when you're in crisis mode. When you reflect on what went well and where you fell short in 2020, what stands out to you the most? What aspirations come to light, and which low points speak to you the loudest? These answers represent the raw material of your 2021 goals.
Perhaps the great poet Maya Angelou said it best: "You can't really know where you are going until you know where you have been." You can use these insights to begin shaping your goals for this new year. The next step is creating an actionable plan for bringing them to life, whether they apply to your personal, professional or financial life. Downloading our Ultimate 2021 Financial Checklist is a great place to start.
Despite all the tumult of 2020, we can likely find at least one thing to feel true gratitude for. Maybe it's your business surviving, or your health, or having wrapped up the year with your family by your side. Leaning into these feelings can help set the stage for more of the same in 2021. At Opal Wealth Advisors, we're here to help our clients learn from their past experiences in order to thrive in the future. We also understand that 2020 taught us to expect the unexpected, which only highlights the importance of financial planning. Set up a free consultation with us today to start 2021 off right. In the meantime, here's to a happy and healthy New Year!
Be a Smart Investor
Stay up-to-date with industry-leading information and news delivered straight to your inbox.
Get our timely insights delivered to your inbox (Blog)
Please remember that past performance may not be indicative of future results. Different types of investments involve varying degrees of risk, and there can be no assurance that the future performance of any specific investment, investment strategy, or product (including the investments and/or investment strategies recommended or undertaken by Opal Wealth Advisors, LLC ["OWA]), or any non-investment related content, made reference to directly or indirectly in this commentary will be profitable, equal any corresponding indicated historical performance level(s), be suitable for your portfolio or individual situation, or prove successful. Due to various factors, including changing market conditions and/or applicable laws, the content may no longer be reflective of current opinions or positions. Moreover, you should not assume that any discussion or information contained in this commentary serves as the receipt of, or as a substitute for, personalized investment advice from OWA. OWA is neither a law firm, nor a certified public accounting firm, and no portion of the commentary content should be construed as legal or accounting advice. A copy of the OWA's current written disclosure Brochure discussing our advisory services and fees continues to remain available upon request or at www.opalwealthadvisors.com. Please Remember: If you are a OWA client, please contact OWA, in writing, if there are any changes in your personal/financial situation or investment objectives for the purpose of reviewing/evaluating/revising our previous recommendations and/or services, or if you would like to impose, add, or to modify any reasonable restrictions to our investment advisory services. Unless, and until, you notify us, in writing, to the contrary, we shall continue to provide services as we do currently. Please Also Remember to advise us if you have not been receiving account statements (at least quarterly) from the account custodian.