Jesse Giordano, CFP® Financial Advisor, Principal
Jesse Giordano specializes in empowering clients to create the financial future they want. Through Opal's proven approach, he helps with behavioral changes that enable clients to create purposeful plans—backed by effective actions. One of Jesse's greatest pleasures is seeing clients discover that dreams that once seemed out of reach are fully achievable. An accomplished speaker, he inspires success.
Rather than offering standard 'how to' financial advice, Opal helps clients find the powerful 'why' of purpose. Our methods put freedom, joy and abundance within reach for all of us."
Jesse formed Opal Wealth Advisors with Lee Korn and Joe Filosa in order to make a meaningful difference in clients' lives with a visionary process of financial planning and investment management. Prior to Opal, he co-founded the 360 Group inside Morgan Stanley, working as a financial advisor and family wealth director. Jesse began his career at Merrill Lynch.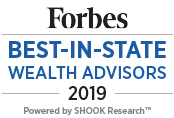 A graduate of SUNY Cortland, Jesse also holds an MBA in Financial Management from Pace University's Lubin School of Business and is a CERTIFIED FINANCIAL PLANNER™ professional. He was recognized as a 2019 Best-In-State Wealth Advisor by Forbes, a list honoring top advisors across the country. Jesse was also named a 2020 Honoree in the Long Island Business News Business & Finance Awards issue for his outstanding performance as a steward of area businesses and nonprofit organizations.
Jesse sits on the Board of Trustees for the Leukemia and Lymphoma Society (LLS). He was recognized as the LLS National Runner Up and Long Island Chapter's 2020 Man of the Year after raising more than $437,000 in just 10 weeks. As a blood cancer survivor, LLS is a personal mission and he is very active with them. He's also on the board of advisors for Mercy College MBA program. In addition, Jesse volunteers his high-level training skills as a speaker helping college students learn about financial literacy and leadership.
*Please Note: Limitations. Neither rankings and/or recognitions by unaffiliated rating services, publications, media, or other organizations, should be construed by a client or prospective client as a guarantee that he/she will experience a certain level of results if OWA is engaged, or continues to be engaged, to provide investment advisory services. Rankings published by magazines, and others, generally base their selections exclusively on information prepared and/or submitted by the recognized adviser. Rankings are generally limited to participating advisers (see participation criteria/methodology). Unless expressly indicated to the contrary, OWA did not pay a fee to be included on any such ranking. No ranking or recognition should be construed as a current or past endorsement of OWA by any of its clients.
*Please See Limitations.
Certified Financial Planner Board of Standards Inc. (CFP Board) owns the certification marks CFP®, CERTIFIED FINANCIAL PLANNER™, CFP® (with plaque design), and CFP® (with flame design) in the U.S., which it authorizes use of by individuals who successfully complete CFP Board's initial and ongoing certification requirements.